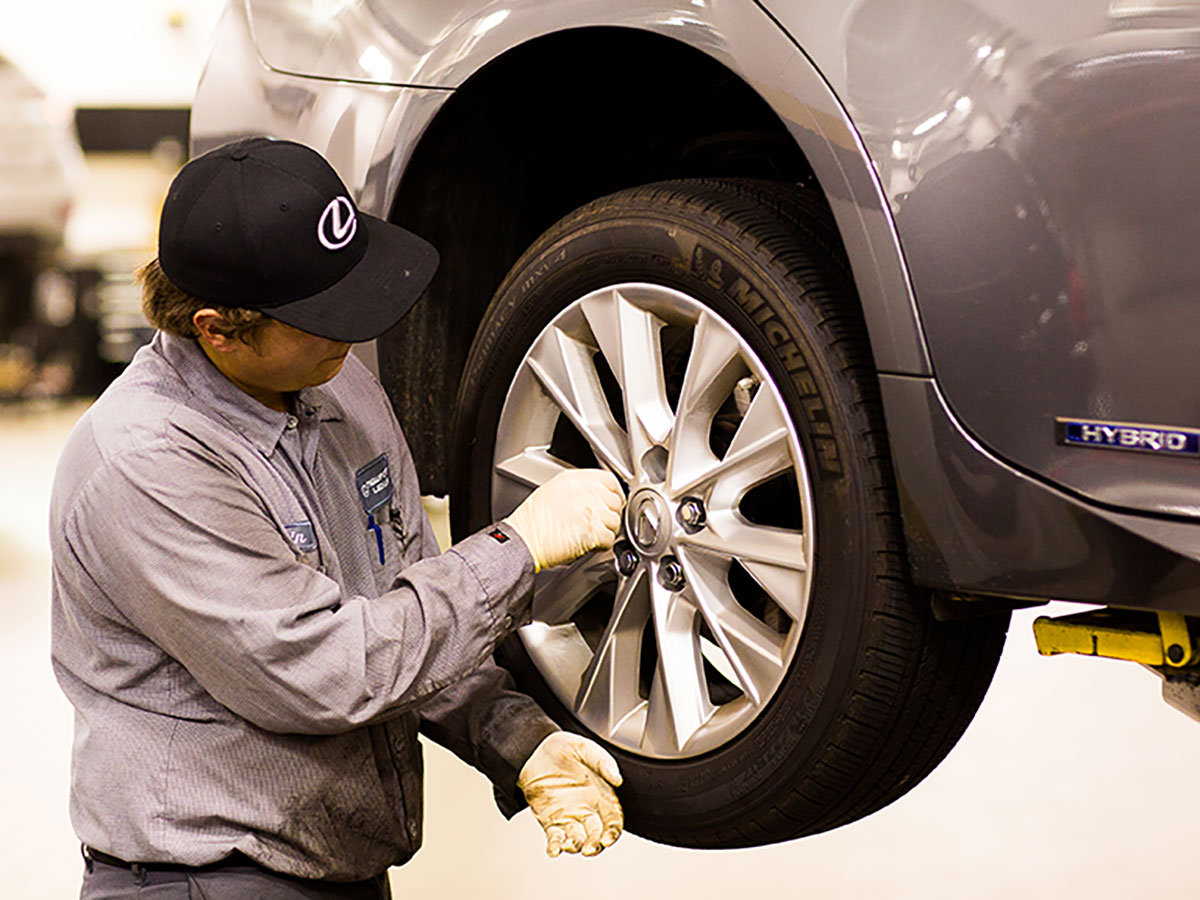 Tire Rotation in Dublin, OH
A tire rotation service is a safety maintenance service we perform on all vehicles. Every 3,000 miles (ca. 4,828 km) or so, your vehicle needs to be serviced. This includes an oil change, tune, up, tire rotation or other recommended services. However, your manufacturer may require you to service your vehicle according to the maintenance cycle associated with your vehicle. At Germain Lexus of Dublin, we take car care seriously. The two most important parts of our service to you is to help protect you and your investment. Without proper tire maintenance service, your car becomes unsafe for you to operate safely on the highways of Springfield, Plain City, Hillard, and Delaware, OH. Your tires are the tools that keep your vehicle running smoothly on the highway.
Why Have a Tire Rotation Service
You should have a tire rotation done for safety reasons. When you're driving your vehicle, you want to make sure your tires are evenly balanced. When your tires wear out unevenly, especially on a front-wheel drive, you put undue stress on your braking system. A prompt tire rotation ensures that all of your tires wear out evenly. This assurance requires our technicians to rotate your front tires to the rear of your vehicle, and your rear tires to the front. This service prevents accidents, ensure the longevity of your tires and keeps your vehicle from sliding on slick roads. When your tires are worn pass the tread or are too smooth, you need from friction to stop your vehicle. This action makes it difficult for you to stop in rain, or other hazardous driving conditions.
Reasons to Trust Germain Lexus of Dublin
The longer you wait to have your tires rotated, the more at risk you are for having an accident. Driving your vehicle with worn out tires is never a good idea. Every time you drive on bald tires, you are risking your safety and the safety of others. As part of our ongoing commitment, we service customers in Springfield, Plain City, Hillard, and Delaware, OH. We know that you can get good service at any dealership in the area, but we want to tell you why we are better than good. We offer low financing, a large inventory of quality new and used vehicles, and an array of services and benefits to meet your needs. We are budget-friendly, and we offer specials on select vehicles all the time.
You can test drive a Lexus today, upgrade your car or buy a Preowned vehicle. We sell and install genuine Lexus parts and accessories, and loaner cars are available doing repairs of your vehicle. You can wait in our comfortable guest lounge, enjoy free TV while surfing the web and drinking coffee and a few snacks. 
Service Hours
Monday

9:00 am - 5:00 pm

Tuesday

9:00 am - 5:00 pm

Wednesday

9:00 am - 5:00 pm

Thursday

9:00 am - 5:00 pm

Friday

9:00 am - 5:00 pm

Saturday

9:00 am - 2:00 pm

Sunday

Closed